(2011-2013) Reference: DPI2010-20764-C02-02. Spanish Ministry of Education and Science. 223.850,00 €. P.I. Josep Vehí. Other researchers: Remei Calm, Joaquim Armengol. Coordinated project (UdG, UPV).
In the last two decades, technological progress has revived research systems in closed loop glucose control (artificial pancreas) combining an insulin pump and a continuous glucose monitor (CGM) for a more effective treatment in subjects with type 1 diabetes although clinical results have been reported quite satisfactory control night, controlling postprandial (after meal) is still an open issue due to over-correction controller producing hypoglycemia. Lack of accuracy of continuous glucose monitors current, especially hypoglycemia has also identified a limiting factor in the development of the artificial pancreas.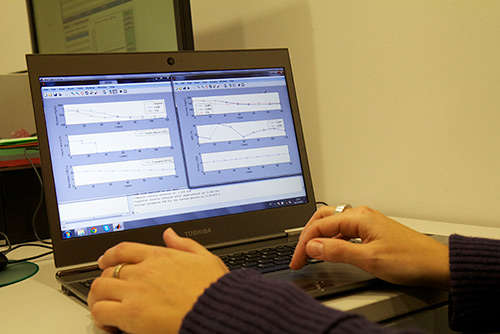 The overall objective of this project was the development of new strategies for the efficient and safe control of postprandial glucose in diabetics, in order to alleviate the complications of hypoglycemia. This project focused on pump-based therapies in both open loop (CSII) and closed loop (artificial pancreas). The project has enabled:
(1) better understand the effect of a food on blood sugar mixed;
(2) the development of new robust control strategies to compensate for the effect of meals efficiently without risk of hypoglycemia;
(3) better understanding of the dynamic relationship between plasma glucose and interstitial to develop new algorithms CGM calibration for better accuracy and detection of hypoglycemia; and
(4) the development of fault detection algorithms for monitoring the insulin infusion. It is hoped that improved control algorithms, accuracy of measurement and detection systems allow errors to reach the performance and security required for automatic control postprandial type 1 diabetes.
The project has been highly innovative exploitable results. The second is patented and in operation and the first patent process.
(1) a new method clinically validated prandial insulin infusion solution for foods high in carbohydrates. This method incorporates unique features in the insulin pump, making the selection of the patient bolus and increasing the efficiency of current therapy pump.
(2) a new calibration algorithm with better accuracy hypoglycemia. This makes continuous monitors more reliable and efficient in the detection of hypoglycemia, increasing confidence in this technology to patients and doctors.